04 Ocak 2002, Turkish News

Turkish guitarists conquer Belgrade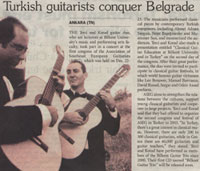 The Terci and Korad guitar duo, who are lecturers at Bilkent University's music and performing arts faculty, took part in a concert at the first congress of the Association of Southeast European Guitarists(ASEG), which was held on Dec. 22-23. The musicians performed classical pieces by contemporary Turkish composers, including Ahmet Adnan Saygun, Nejat Başeğmezler and Muammer Sun, and mesmerized the audiences. Terci and Korad also made a presentation entitled "Classical Guitar Education at Bilkent University and in Turkey" on the second day of the congress. After their, great performance, the duo were invited to participate in classical guitar festivals, in which world famous guitar virtuosos like Leo Brouwer, Manuel Barrucco, David Russel, Sergio and Odeir Assad perform.

…Terci and Korad said that they had offered to organize the second congress and festival of ASEG in Turkey in 2003. In Turkey, there's a great interest in classical music. However, there are only 200 to 300 classical guitarists, while in Greece there are 60,000 guitarists and guitar teachers," they stated. Terci and Korad. have performed as members of the Bilkent Guitar Trio since 2000. Their first CD named "Bilkent Guitar Trio" will be released soon.