20 Mayıs 2002 , Turkish Daily News

Yaşar Kemal Becomes the First Writer to Receive an Honorary PhD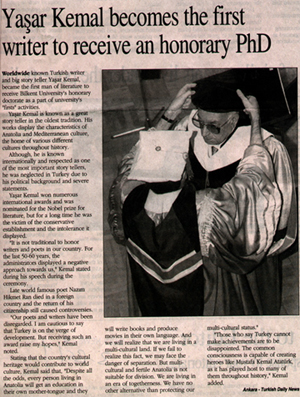 Worldwide known Turkish writer and big storyteller Yaşar Kemal, became the first man of literature to receive Bilkent University's honorary doctorate as a part of university's "firsts" activities.
Yaşar Kemal is known as a great story teller in the oldest tradition. His works display the characteristics of Anatolia and Mediterranean culture, the home of various different cultures throughout history.
…Yaşar Kemal won numerous international awards and was nominated for the Nobel prize for literature, but for a long time he was the victim of the conservative establishment and the intolerance it displayed.
"Those who say Turkey cannot make achievements are to be disappointed. The common consciousness is capable of creating heroes like Mustafa Kemal Atatürk, as it has played host to many of them throughout history," Kemal added.